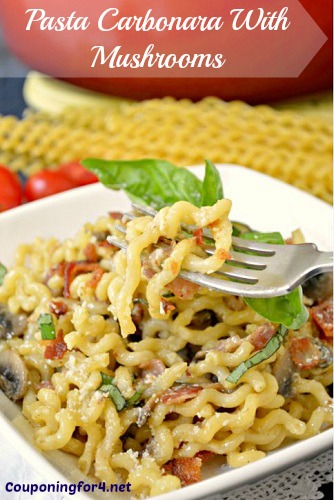 I love pasta. Let me rephrase – I LOVE PASTA – and this Pasta Carbonara with mushrooms recipe is going to be as big a hit in your home as it is in mine. There are lots of ways to tinker with it, so go with the basic recipe and add or subtract as you wish! To make things a bit healthier, you can opt for turkey bacon instead of regular bacon, whole wheat pasta instead of white pasta or 1% milk instead of cream/higher fat milk. Do what works best for your family, but you're going to love it!
A few things to remember about this Pasta Carbonara with mushrooms recipe – first, you'll want to make sure that the pasta is al dente. Don't overcook or you'll find everything to mush together a bit more than you'd intended.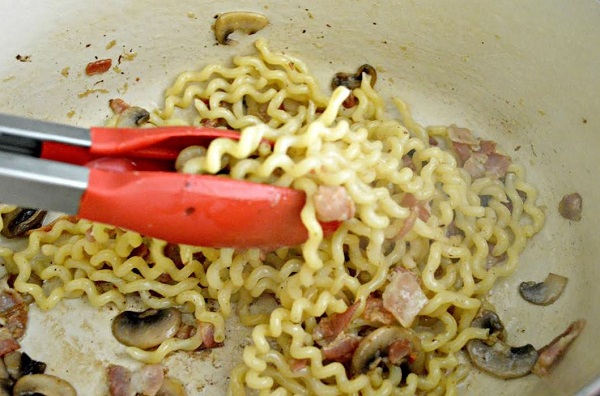 Also, after you drain the pasta, you'll want to keep about 1/2 cup of that boiling water to use later in the recipe. Don't dump it all out without thinking! I know we've all done that, so it's important to remember!
Lastly, when you're adding the egg, do it some at a time so as not to make scrambled eggs. You want to cook and coat, not make a second dish! Once you're done, serve this right away. It's always best went hot! Enjoy! Ready for more deliciousness? Read more of my recipes!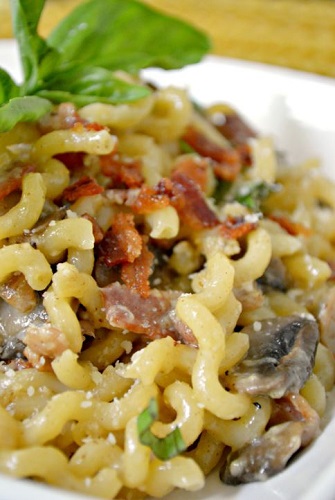 Pasta Carbonara With Mushrooms Recipe
Pasta Carbonara With Mushrooms Recipe
Ingredients
1/2 lb of spaghetti or long fusili (uncooked)
4 slices of bacon, cut into small pieces
2 cloves garlic, minced
1/2 cup of mushrooms, sliced
1 egg, slightly whisked
2 tbsp of milk or cream
1/4 cup of Parmesan cheese
Fresh Basil
Salt/Pepper to taste
Instructions
Cook the pasta to al dente.
While pasta is cooking, cook the bacon in a large pot on medium heat until soft. Add mushrooms and cook until soft.
Add garlic to the pot, cook 1 minute or until fragrant. Don't allow it to burn.
Drain the pasta, but save 1/2 cup of the hot water in a separate bowl.
Add some of that water to the pot and let it deglaze.
Add the pasta and toss to evenly coat.
Remove from heat.
Now add the milk or cream and cheese. Toss into pasta.
Taste if salt is needed.
Slowly add the egg, but make sure it doesn't make scrambled eggs. Quickly toss into the pasta and plate.
Sprinkle with extra parmesan cheese and basil.
Serve right away.
https://www.couponingfor4.net/pasta-carbonara-with-mushrooms-recipe/