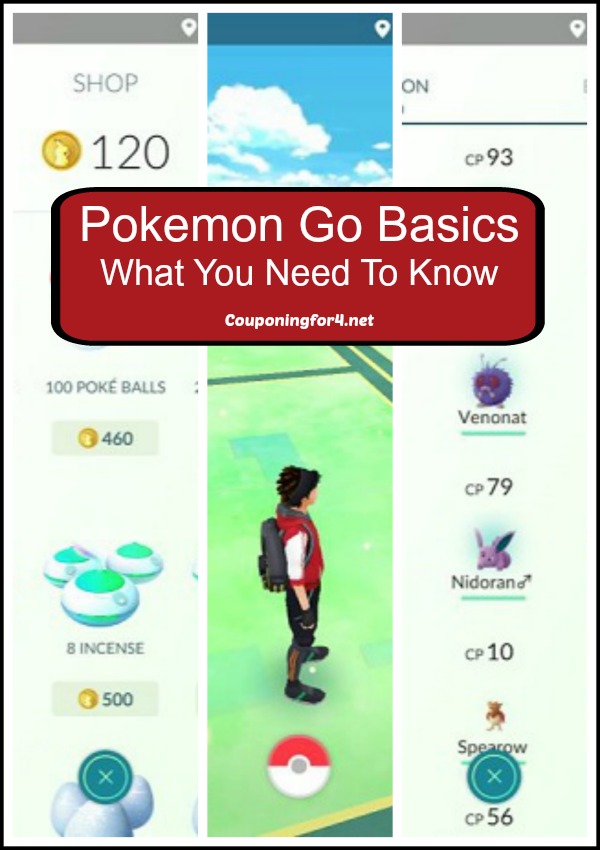 Pokemon Go is EVERYWHERE, but I know that many of you are still wondering about the Pokemon Go Basics. What you really need to know about Pokemon Go to make the most of the new game. Here is all you need to know about Pokemon Go!
First – let me start by saying that I want everyone to be safe, using good judgement and common sense while playing this game. There have already been way too many accidents and issues with people playing Pokemon Go and it's barely been out two weeks, so take care of yourself and those around you. Now that I have that PSA out of the way, let me share with you some of the basics of the game –
Pokemon Go is a fun way to virtually explore the world around you by also actually physically getting out of the house and moving around. It is available for both iPhone and Android devices.
Once you download the App and open it, you can choose and customize your male or female Pokemon Trainer, change hair, eyes, clothes, backpack etc. Then you give them a fun nickname and start walking in search of Pokemon!
When you begin, you are given a choice of 3 starter Pokemon- Charmander, Squirtle, and Bulbasaur. I am going to let you in on a trick – if you ignore these three by walking away several times, Pikachu will appear and you can choose him as your starter.
When you see Pokemon, you are given a Pokeball to use to capture it. You hold it down with your finger and toss it at him – if you catch him he belongs to you. After so many tries, he runs away. You lose a Pokeball with every miss, so aim well and find a good technique! If you spot rustling grass, it indicates a Pokemon is near and you can walk in that direction to try and locate him.
So once you have a trainer ready to "catch em all," now you need to get out there and start grabbing them up. If you look at your screen in the app, you will note that it looks like a virtual GPS – roads, bodies of water, etc are shown on the screen. What you want to do is walk around until Pokemon appear – or you can look for blue towers – called Pokestops – that you'll find at businesses, statues, churches, restaurants – we have located them at community entrance signs and at parks as well. Visit these Pokestops – tap on on the tower, spin the middle and you are rewarded with eggs, O\Pokeballs, potions and other items. These refresh every 5 minutes and if you are still hanging out there, you can claim them again!
You will see larger towers that are silver and colorful called Gyms. These are battle arenas where you can put your Pokemon against others. You must be at least level 5 to participate in Gym battles. To attack you can either tap screen or hold down your thumb and forefinger for special moves. If the team's "prestige" drops to zero, they lose control of the gym. If your Pokemon sustains damage, you can heal them with revive or max revive potions in the store or those that you have collected at Pokestops.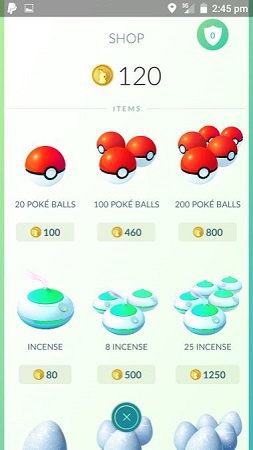 In your main menu you'll find your Pokedex – which as far as I can understand is a numbered list of all Pokemon available and shows you the ones you have. Shop – like it sounds – is where you can purchase (with real money) Pokeballs, incense to lure in Pokemon, eggs, egg incubators, and more to help you in the game. There is also an Items button where you can see which items you have purchased from the store. Finally there is a Pokemon button that lists the ones you have captured and their CP (combat power).
Now when I tell the kids it's time to go outside and play, they happily put on their shoes! Because it will require the use of a phone (and you may not want them wandering around alone!), you'll want to be sure to be with them if they are little, or suggest a buddy to go with if they are older. If your children are out running errands with you, hand them your phone and let them look for Pokemon! The trip will be far less painful and the kids may even want to join you!
A few final parting words…
The #1 rule of Pokemon Go is "Be aware of your surroundings" – Please don't Pokemon Go and Drive, or walk into traffic for that matter.
Respect other people's property and don't go trampling through their yards in search of wild Caterpies. Mind your manners, stay safe and have fun!