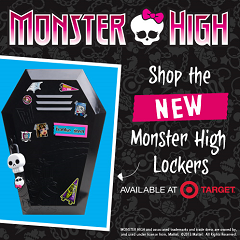 If your mini me is into Monster High, you're going to love this! Monster High has released a new Monster High Fangtastic Locker that is sold exclusively at Target for only $29.99!
"Every little "Ghoul" can be stored in this secret coffin locker. There is a secret storage space to stow your ghoulish trinkets that can only be accessed with a key. There is a real working wipe board for messages and reminder. A spider web for fun storage of little ghoul jewelry help keep your little ghoul organized. Real working picture frames to store pictures of you and your friends. Fun accessories and stickers to personalize your locker! Doll not included."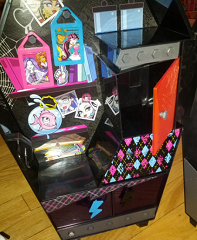 My kids got the chance to test out the Monster High Fangtastic Locker recently and they had a blast! My daughter has since locked up all of her most prized possessions inside it (complete with lock and key!), but before she stole it away, the decoration party began!
There are a ton of Monster High themed stickers included so that you can personalized to your heart's desire! There are little picture frames that actually hang as well. They currently display picture of the Monster High characters (included with the set), but I will be working on getting her smaller photos of her friends and family.
The set includes two containers for "special stuff" as my daughter calls it. They are perfect for keeping smaller items in (she has one for her hairbands and another which has something special that she won't reveal). You also get two bracelets to decorate yourself with!
All in all, this is a really cute set! If you have any Monster High Dolls, they will fit neatly inside as well (like a coffin/locker) and – best of all for the parents – all of the accessories fit inside neatly during clean up! A great gift option for any Monster High fan!
Fine Print: This post is sponsored by Lunchbox. All opinions are my own.