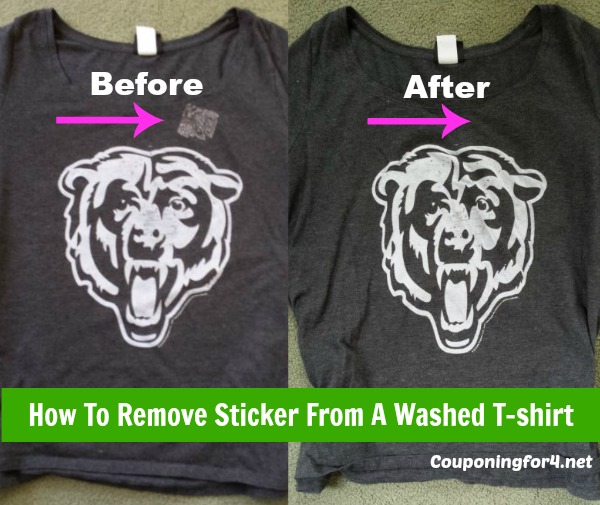 Have sticker residue on a T-shirt? Here is how to remove sticker residue from a washed T-shirt based on my own experience. You can save that shirt – I've done it!
If you are like me, you know the pain of trying to remove sticky adhesive from your clothing after you've washed it. My daughter recently covered me with stickers (as she does) and in a going-to-sleep haze, I threw my favorite T-shirt in the washer, leaving one sticker behind by accident. The largest sticker. The rainbow square-shaped sticker, which was adorable and fun while I was wearing it. Then I washed it and I was left with this residue – totally in a panic, trying to clean sticker gunk off my favorite T-shirt!
Let's get this out of the way real quick before we get down to business. Yes, this is a Bears shirt. Yes, I am a die-hard Chicagoan, which means that I'm also a die-hard Bears, Bulls, Cubs and Blackhawks fan. We can all get along here, we'll just agree to disagree. It's cool!
So, you've found yourself in a typical parent situation where you've done a load of laundry, only to find out that you failed to remove a sticker from an article of clothing. In my case, I both washed and dried my shirt, so it was really stuck in my T-shirt material. Never fear! There is a way to remove it and it will only take a little soap and some elbow grease.
*Note – my shirt is cotton, so I cannot tell you that this process will work for any other material. I do not recommend trying this with any delicate textile like suede, silk, cashmere, etc. For items like these you will want to talk to a dry cleaner or purchase professional products.

**Looking for other ways to empower yourself? Look no further!**
For this endeavor, you will need dish soap (I used Dawn) and an old toothbrush. Alternatively, if you have medium sized nails (not too long, not too short), you may find that using your nails to work at the sticker residue works even better than the toothbrush. Whatever you are equipped with use it, but I found my nails to be more effective than the toothbrush.
To begin, wet your article of clothing just a bit and pour a nice amount of dish soap right onto the sticker residue. Spend about five minutes scrubbing the soap in small circular motions to gently remove what adhesive you can.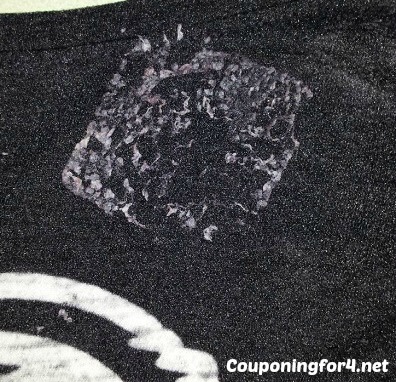 After five minutes of continual scrubbing, run your clothing under warm water to wash away the residue that you loosened.
Next, pour another Tbsp or two of dish soap on the sticker and continue scrubbing in circular motions for another five minutes.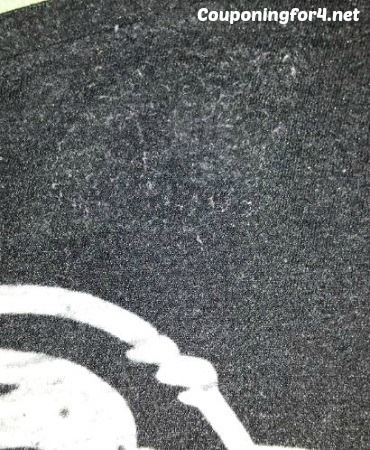 Rinse off once again and repeat as necessary. Once you see your sticker residue virtually gone, pour a nice amount of dish soap on the area, scrub once again and launder as usual (leaving the soap where it is). Check your results after washing and decide if you need to do the dish soap/scrubbing step once again, but you should be good to go. You can see my shirt was clean after completing the scrub/rinse cycle four times before my wash.
You can save that shirt if you want to! I washed and dried mine at least three or four times before actually putting in the work to remove the sticker residue. My daughter has a LOT of stickers, so I'd just grab a new sticker to cover up the stain any time I was going to wear my shirt. It seemed easier at the time, but NOW I have my shirt back and you will too!
Check out my other site Dancing Through The Rain for much more!